Radio Controllers
RadioMaster Zorro – 4-in-1 multi protocol
Availability:
Coming Soon
155.00 € 129.17 € ex. Tax
Coming Soon
RadioMaster Zorro – 4-in-1 multi protocol
The new class leader in game control style radios is here! Meet the all new RadioMaster Zorro.
Featuring an ergonomic design, large bright LCD screen in the perfect viewing position, travel adjustable HALL sensor gimbals, a nano size external RF module bay, built in USB-C Charging, USB-C Data port for updating and playing simulators, rear and top assignable push buttons, scroll wheels, RadioMasters 7 button menu navigation system, headphone audio output, external power source input and a host of RF options the RadioMaster Zorro is set to change the game once again.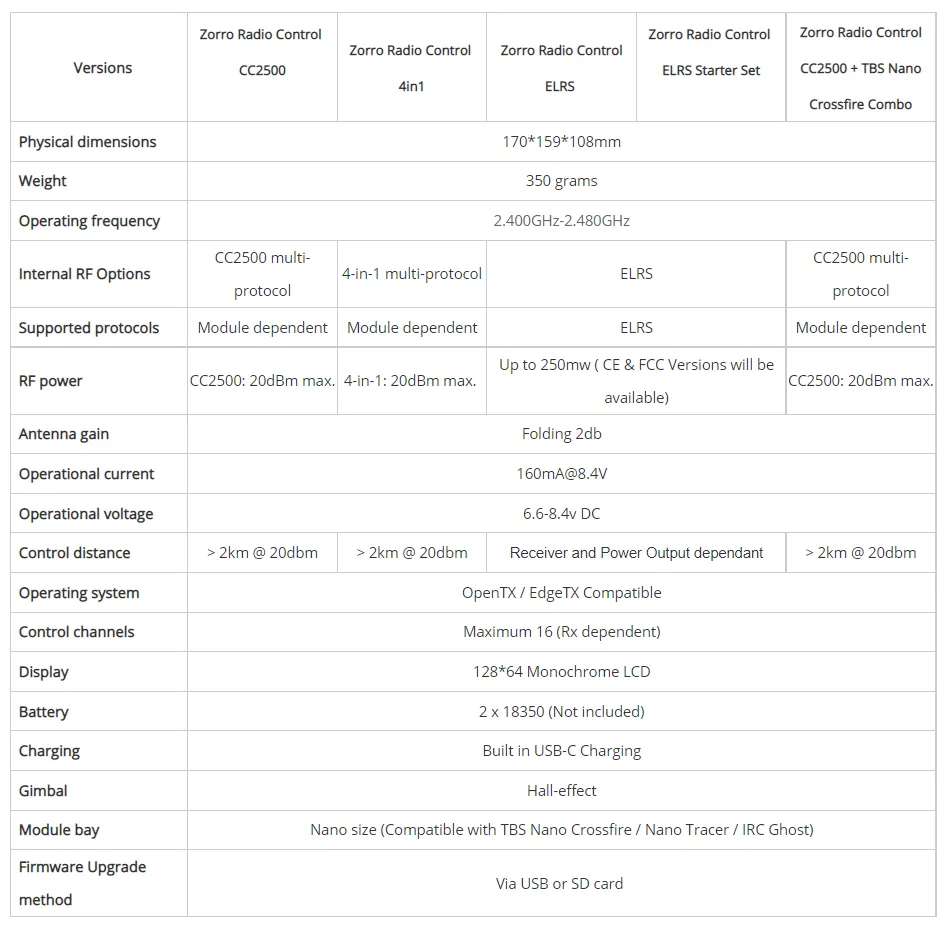 Physical dimensions:170*159*108mm
Weight:350 grams
Operating frequency:2.400GHz-2.480GHz
Internal RF Options:4-in-1 multi-protocol
Supported protocols :Module dependent
RF power:4-in-1: 20dBm max.
Antenna gain:Folding 2db
Operational current:[email protected]
Operational voltage:6.6-8.4v DC
Control distance:> 2km @ 20dbm
Operating system:OpenTX / EdgeTX Compatible (Ships with EdgeTX)
Control channels:Maximum 16 (Rx dependent)
Display :128*64 Monochrome LCD
Battery :2 x 18350 (Not included)
Charging :Built in USB-C Charging
Gimbal:Hall-effect
Module bay :Nano size (Compatible with TBS Nano Crossfire / Nano Tracer / IRC Ghost)
Firmware Upgrade method:Via USB or SD card (SD included)