DJI FPV
PGYTECH DJI FPV Filter ND Set (ND 4/8/16) (Professional)
🟢 Easy to dismount
🟢 German SCHOTT glass, double-sided, multi-layered Nano coating repels water and oil, which makes it easy to keep clean
🟢 Aviation aluminum alloy frame, ultra-light yet durable.
🟢 Silica gel avoids scratches to the lens
🟢 The filter' s optical glass contains a reflection reducing coating to maintain color accuracy
🟢 No effect on calibration and drone's balance
Compatibility:
🟢 DJI FPV Drone
Availability:
Coming Soon
120.00 € 100.00 € ex. Tax
Coming Soon
PGYTECH DJI FPV Filter ND Set (ND 4/8/16) (Professional)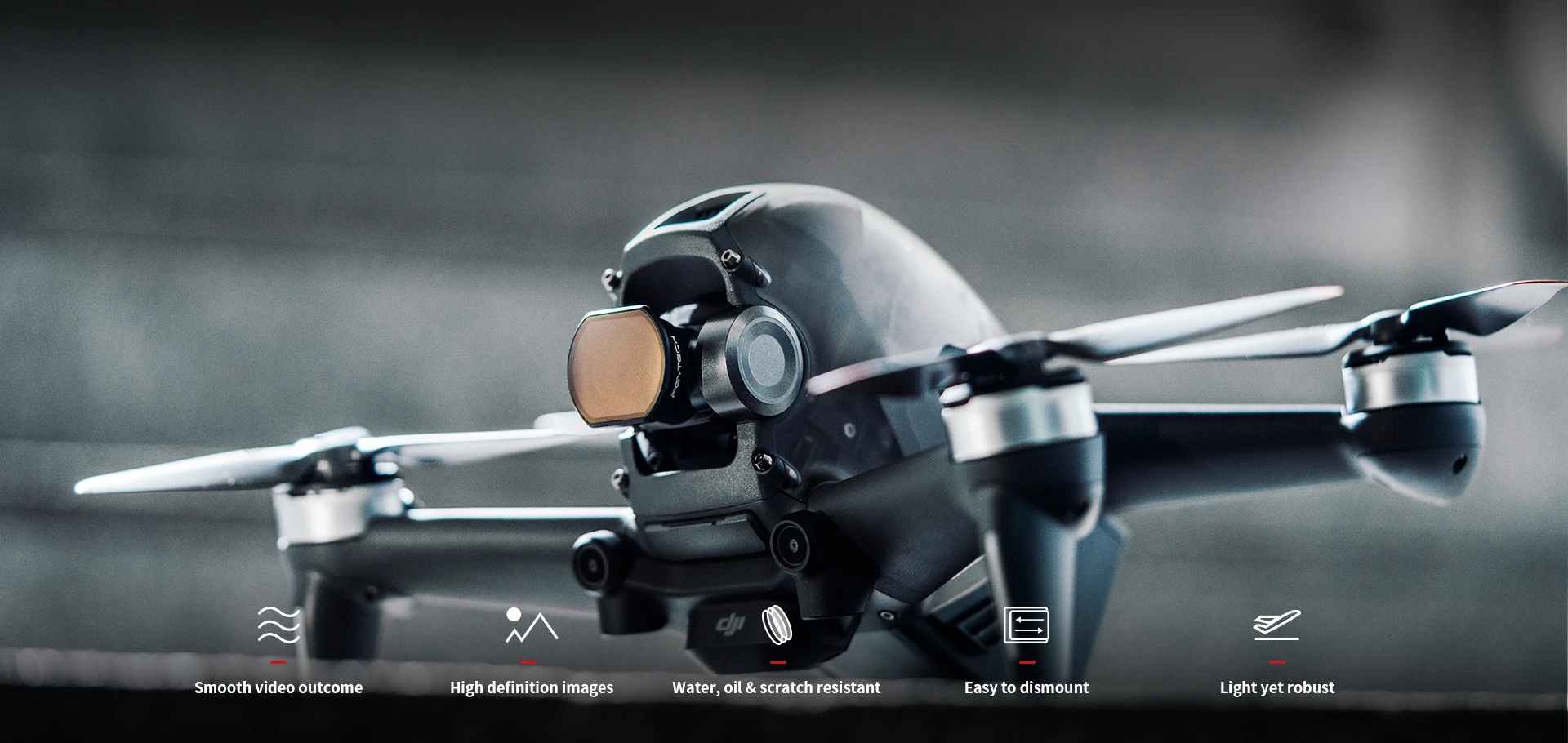 The perfect exposure for smooth aerial images


This subtle filter offers increased exposure control and creates a dynamic blur effect to your images. Enjoy a better flight and create super smooth images.
High definition images during an immersive flight

The German SCHOTT glass has been ground and polished multiple times to offer you a high-definition image during an enjoyable flight from an immersive first-person view.
Water, oil & scratch resistant

The filter's double-sided, multi-layered Nano coating repels water and oil, which makes it easy to keep clean. The filter's hard coating also makes it scratch-resistant.
Reduce unwanted reflections without color shifts

The filter's optical glass contains a coating that reduces reflections while maintaining color accuracy.
Easy to dismount & protects your lens


The filter is easy to dismount, while the silica gel placed inside the frame ensures the installation process does not damage your lens.
Ultra lightweight to avoid disruption to calibration and drone's balance

The frame is made from aluminum alloy, which is often used in aviation due to its lightweight yet durable properties. Fits perfectly on your drone's lens and doesn't affect your drone's performance.
PGYTECH DJI FPV Filter ND Set (ND 4/8/16) (Professional)
Features

Easy to dismount
German SCHOTT glass, double-sided, multi-layered Nano coating repels water and oil, which makes it easy to keep clean
Aviation aluminum alloy frame, ultra-light yet durable.
Silica gel avoids scratches to the lens
The filter' s optical glass contains a reflection reducing coating to maintain color accuracy
No effect on calibration and drone's balance

Material
Size
30 x 24.9 x 10.8 mm
Net Weight
2.9 g x3
Compatibility